Current Exhibitions: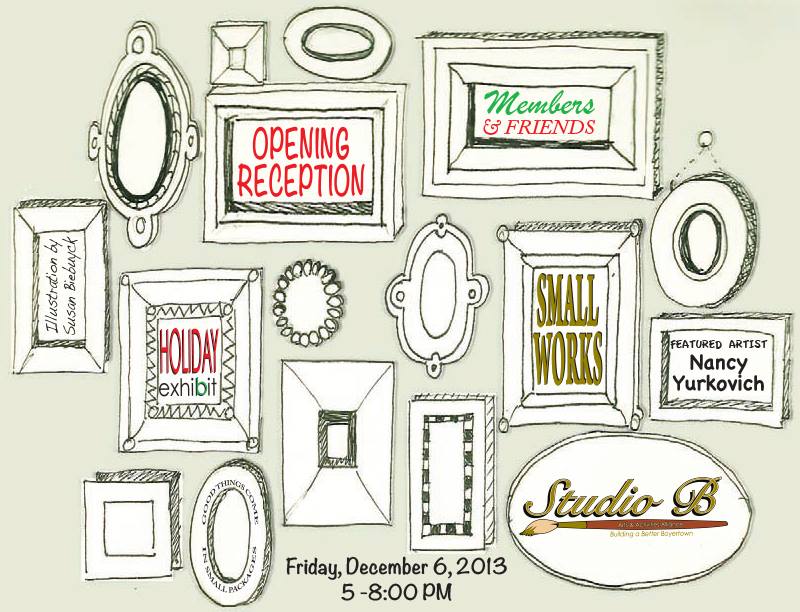 Studio B, 39 E. Philadelphia Ave. in Boyertown, PA, will celebrate its five-year anniversary with its sixth annual "Members & Friends Showing of Small-Priced Works," opening Friday, December 6, 2013, 5-8PM, in conjunction with the 11th annual Boyertown Holiday Open House Tour.  The show continues through January 11, 2014.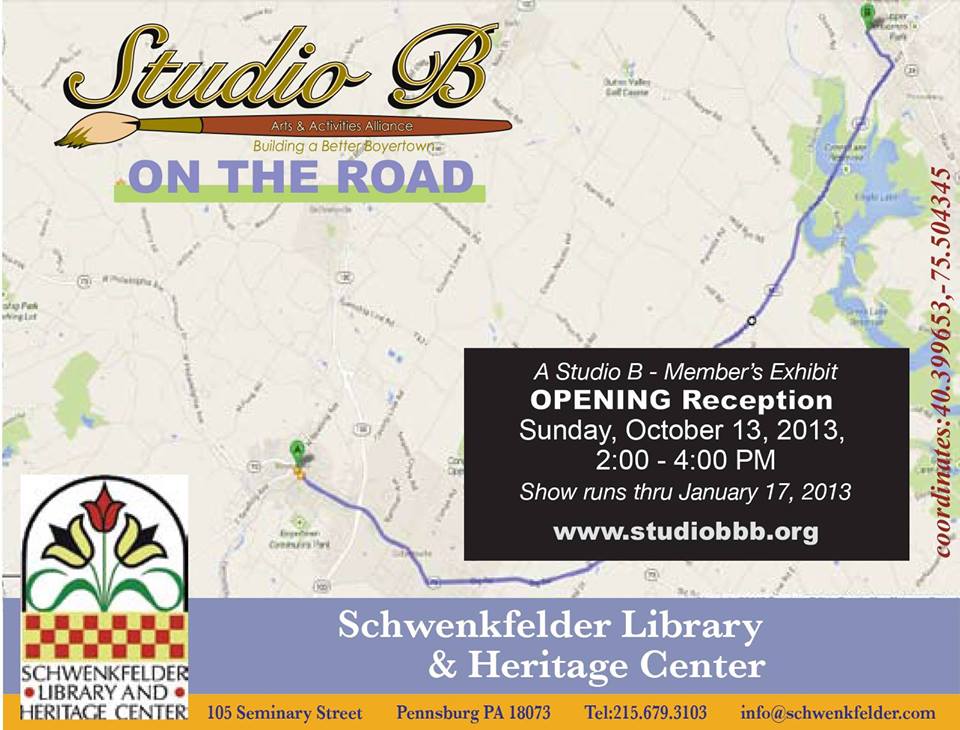 Studio B On the Road: An exhibit inspired by the Elements of Fraktur at Schwenkfelder Library and Heritage Center, Oct 13-Jan 17
Susan Biebuyck, gallery director at Studio B–Boyertown's Fine Art Gallery, encouraged the studio's 80+ artist members to be inspired by the colorful folk art known as Fraktur, popular with the 19th century Pennsylvania German folk culture, and to submit work using fresh and creative approaches for an exclusive exhibit to be held at Schwenkfelder Library and Heritage Center entitled "Elements of Fraktur."  
While fraktur properly takes its name from the text or wording of hand-drawn documents that recorded births, baptisms, marriages, deaths, house blessings, for example, the fraktur maker almost always embellished his work with drawings of various birds (real and imaginary), tulips, angels, mermaids, soldiers, animals, and geometric patterns and designs of his fancy. Adapting the 19th century folk art style by 21st century artists for modern audiences proved to be a most rewarding and instructive challenge for the artists and a most interesting show.
Previous Exhibitions:

The Farm Show, January 18 – February 9, 2013
5th Annual Exhibition juried by Barrie Maguire (artist of featured painting above)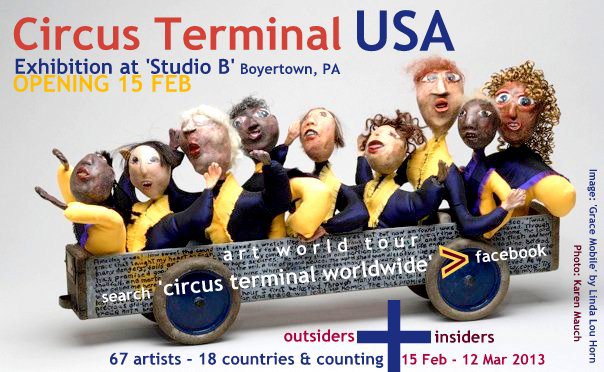 Circus Terminal: USA
Opening Reception: Friday February 15th 5- 8 pm >> Studio B
Live ART Painting Performance by ROOT 222 (www.root222.com) +
Film Screening by Chris and Paul Czainski (www.czainski.com)
Exhibition: February 15 – March 9 2013
An international traveling exhibition bring together 60+ artists from around the globe. Please visit our Facebook event page here. Exhibition opened in 2012 in London and has traveled to Spain, France and Thailand.
Project Lead Curator: Chutima "Nok" Kerdpitak (London/Thailand)
USA Curator: Emily A. Branch   Please visit out US project page here

All Fired Up, an invitational exhibition or pottery and ceramic artists
March 15 – April 9th, 2013
Facebook exhibit pictures here

Happy Little Trees, the eco-show  April 19 – May 7, 2013
Juror: Adriano Farinello

VALUE:  woman.  artist.  mother, May 10 – June 14, 2013
This exciting exhibit is curated by local artists Angela Colasanti and Tara Dolan.  Together, they founded the exhibit based on the dual meaning of the art term VALUE:
noun:  the lightness or darkness of a color.
noun:  relative worth, merit or importance.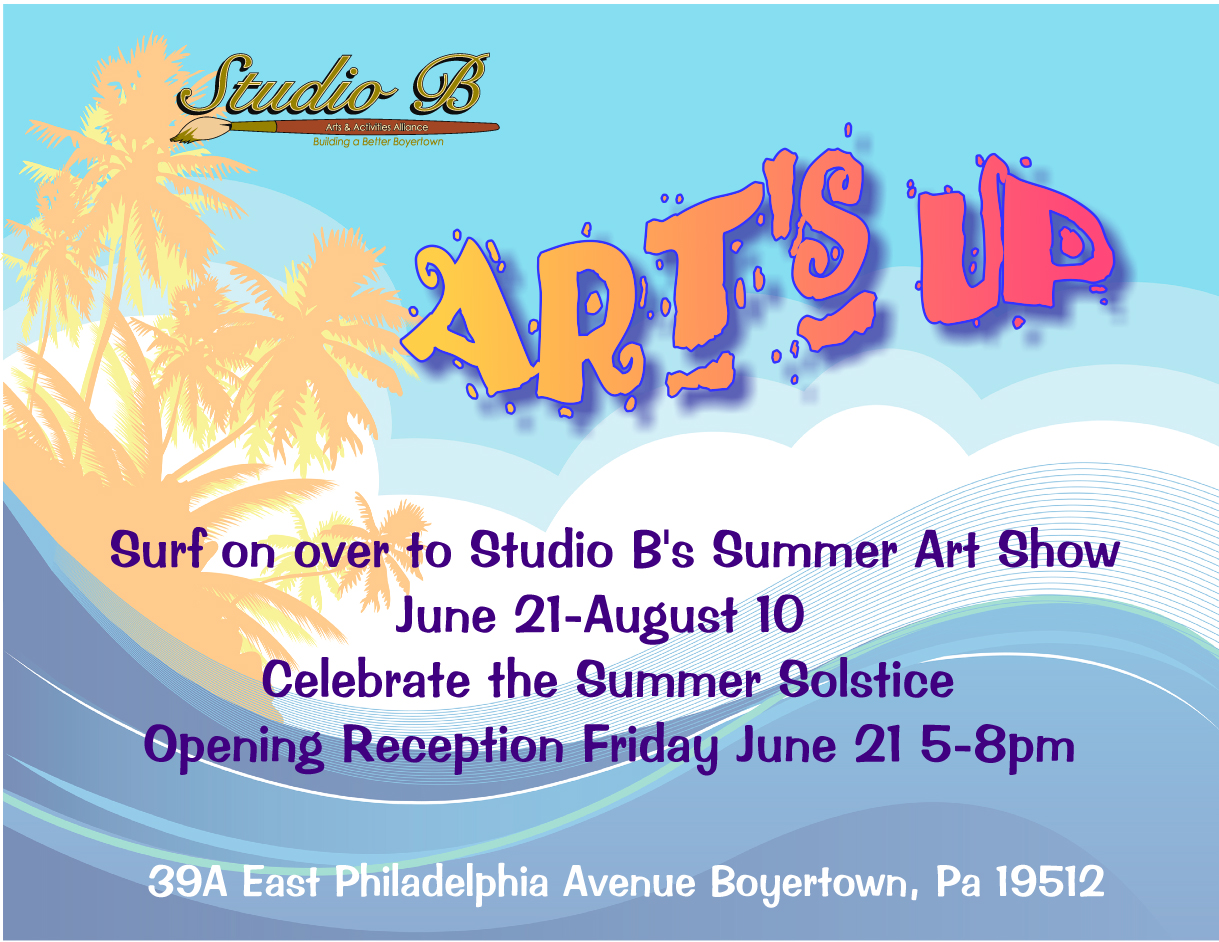 Art's Up: Studio B Summer Show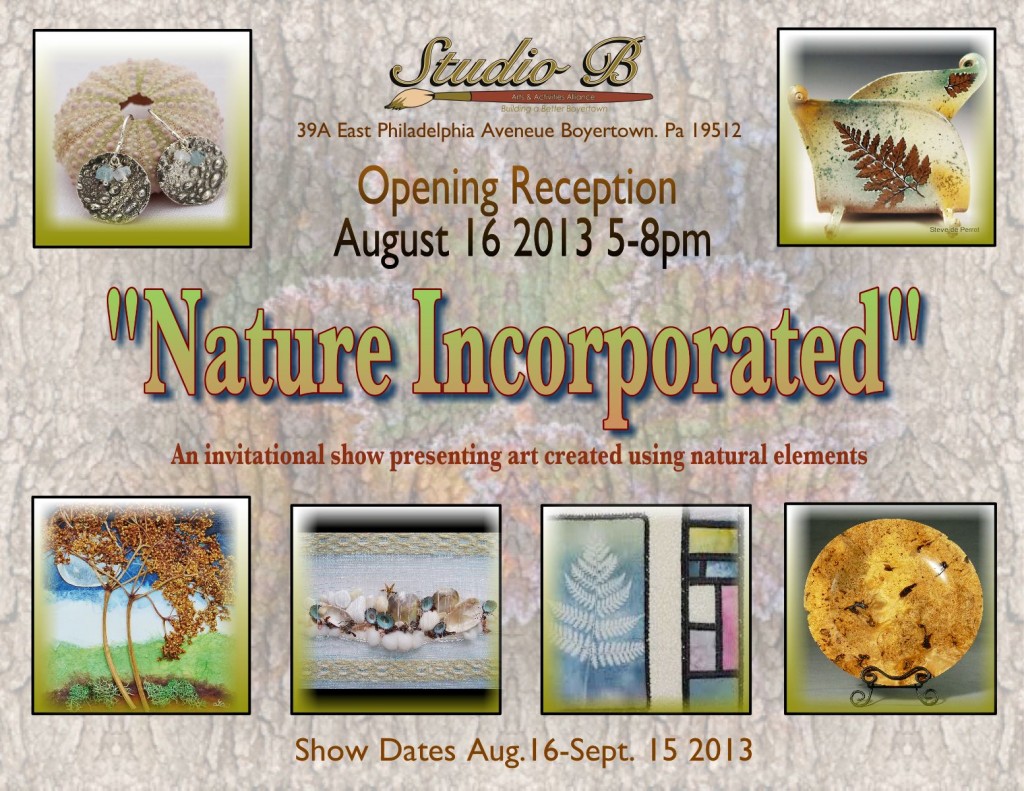 Nature Incorporated Invitational Exhibit, Aug 16- Sept 15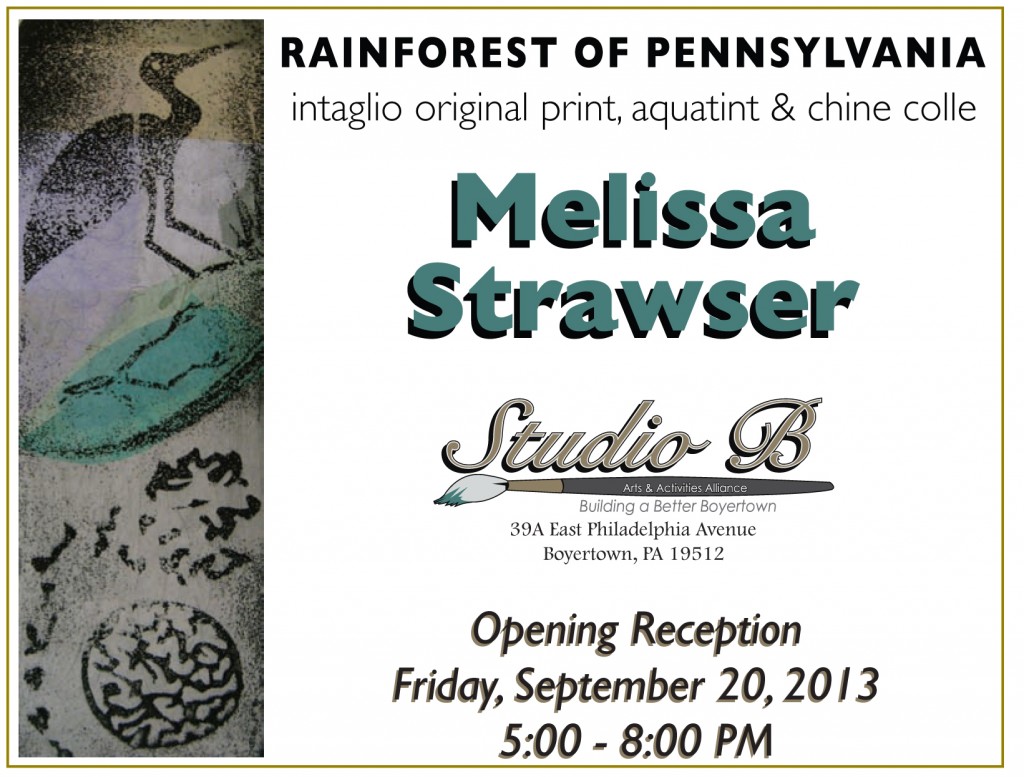 Melissa Strawser, Sept 20-Oct 12
Studio B presents: RAINFOREST OF PENNSYLVANIA
Melissa Strawser–International Artist, Printmaker and Sculptor–in a show of her works
Born in Reading, Pennsylvania, Melissa Strawser has been a Printmaker for almost 30 years because she loves working with paper. She is inspired by all things natural: ecological environments on earth and of water; organic forms found in plants, animals, insects, amphibians, and aquatic life; and natural energies–especially light.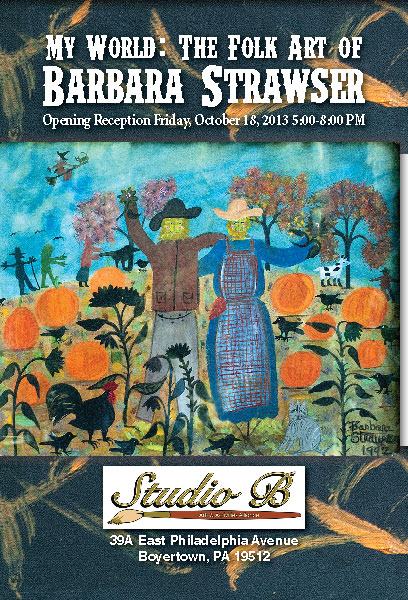 Sponsored by Herb Real Estate