Studio B, 39A East Philadelphia Avenue in Boyertown, PA, a space for art and artists, has a host of experiences to have fun, meet new people, establish friendships, and participate in the visual and literary arts. Studio B is the home of the Arts and Activities Alliance, a committee of Building a Better Boyertown, a nonprofit Main Street program dedicated to revitalizing small towns.
Studio B celebrates lifelong learning, creativity and personal involvement in the visual and communication arts and seeks to be a dynamic part of Boyertown community, a "go to" destination for learning, fun and friendship. The studio seeks to showcase the work of fine artists in themed exhibits—some juried, some open to all—and welcomes art in diverse media. In addition to art exhibits, workshops, and classes, Studio B also hosts activities and informal gatherings on assorted topics for small groups or meetings, gallery talks, and "Getting to Know You" opportunities.
Visitors are always welcome to view the changing exhibits; take lessons in the visual, literary, and communication arts offered by highly-trained local artists and teachers; and schedule small events or parties in its elegant facility. The studio proudly collaborates with the many unique businesses in the Boyertown community.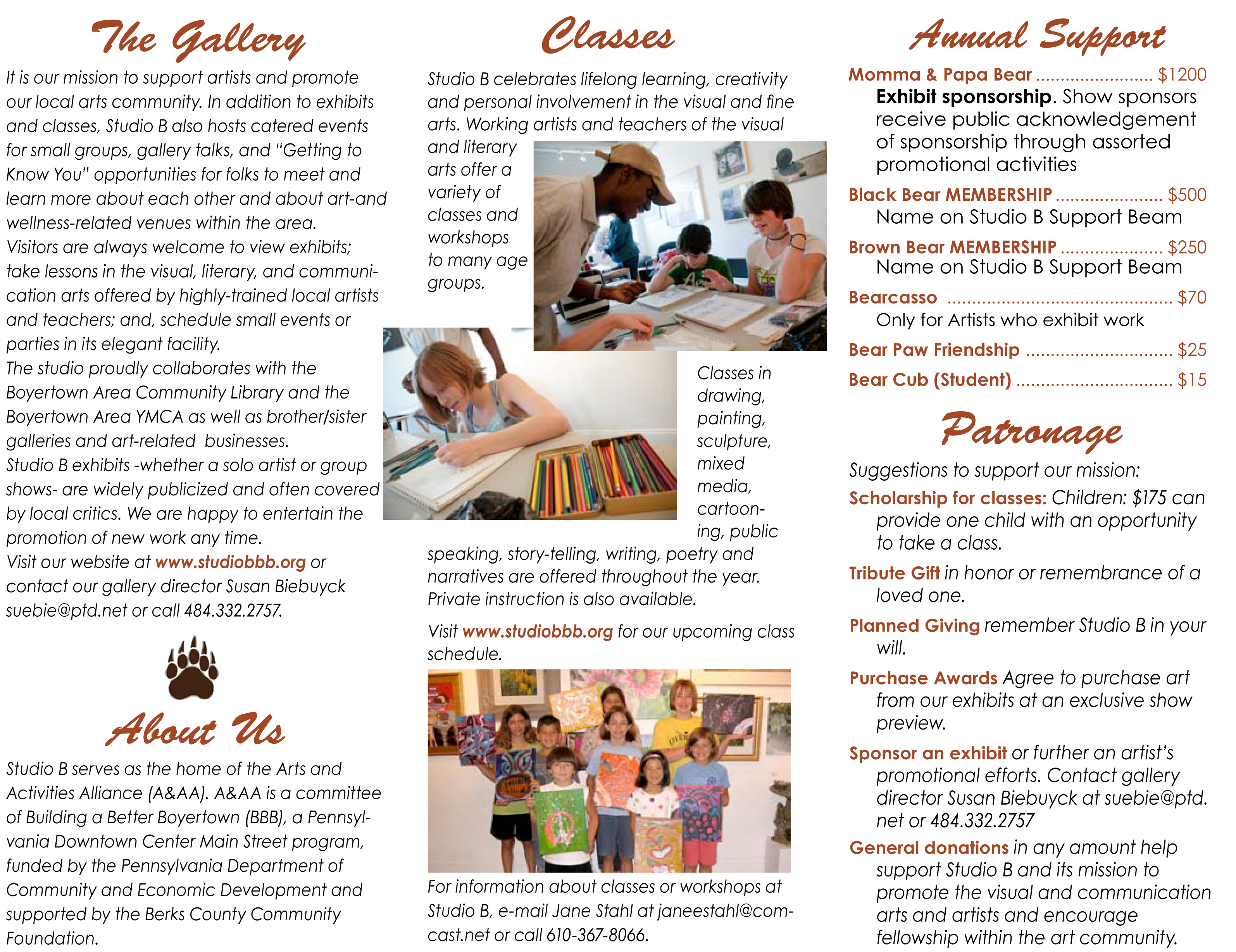 As you (our patrons and supporters) determine venues for year-end charitable giving, consider a donation to sustain the mission of Studio B.
Please mail donations to Studio B, 39A Philadelphia Avenue, Boyertown, PA 19512
Funding sustains Studio B's revolving art exhibits, workshops and classes, art-related activities, and community events which serve to provide social opportunities enhancing creativity, community relationships, and participation in the visual and communication arts.
Communities benefit economically from a thriving art scene. The "soul" of a community is found in its cultural venues. Support for art and culture improves the quality of life for all ages.
As school budgets force the curtailment of art-related opportunities for talented youth, Studio B provides workshops, classes, and activities designed to further their skills and experiences.
Thank you for supporting the arts in Boyertown!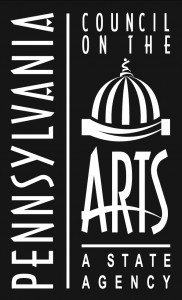 - The Studio B Staff
Studio B is a 501(c)(3) non-profit under Building A Better Boyertown and participates in the Educational Improvement Tax Credit (EITC) program. All donations are tax deductible.
Studio B receives state arts funding support through a grant from the Pennsylvania Council on the Arts, a state agency funded by the Commonwealth of Pennsylvania and the National Endowment for the Arts, a federal agency.