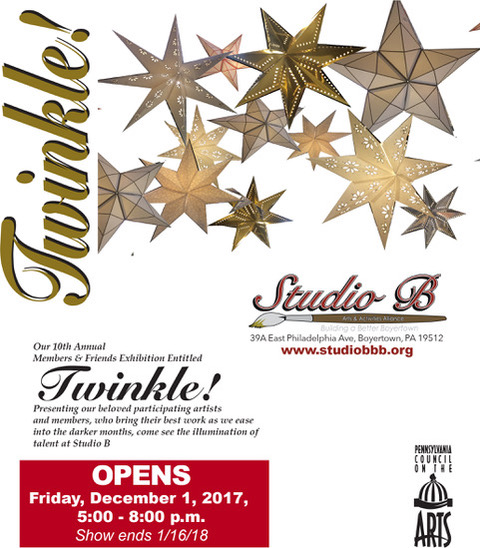 Get the Prospectus here: http://www.studiobbb.org/gallery/call-to-artists/
Studio B is excited to celebrate its 9th anniversary with an opening of its tenth annual December exhibit entitled "Twinkle" on Friday, December 1, 2017, from 3:00 p.m.-9:00 p.m. during Boyertown's 15th and final annual holiday open house tour. The show continues through January 14, 2018.
The gallery's artist members and new friends have been invited to feature their best work. Various media, from oil, pencil, and watercolor to clay, glass, and fiber, will be represented. This annual exhibit showcases dozens of local artists and offers an array of styles.
"It is our mission at Studio B to promote the artists," said Studio B director Susan Biebuyck. "This exhibit is another opportunity for the many talented people who have graced our walls to exhibit and for us to celebrate their artistic accomplishments. We want to ease our community into the darker months by showcasing the illumination of talent by our artist members and friends."
Prizes will be awarded on Friday night, including the coveted "Best In Show."
"Even in tough economic times, art is an investment gift. It brings joy and hope to both the giver and the receiver," Biebuyck noted. "This is a special annual exhibit for us. We opened our doors for the first time with this exhibit in 2008. As part of the Holiday House Tour we were introduced to hundreds of visitors to Studio B that evening and look forward to hundreds every year during this annual community celebration!"