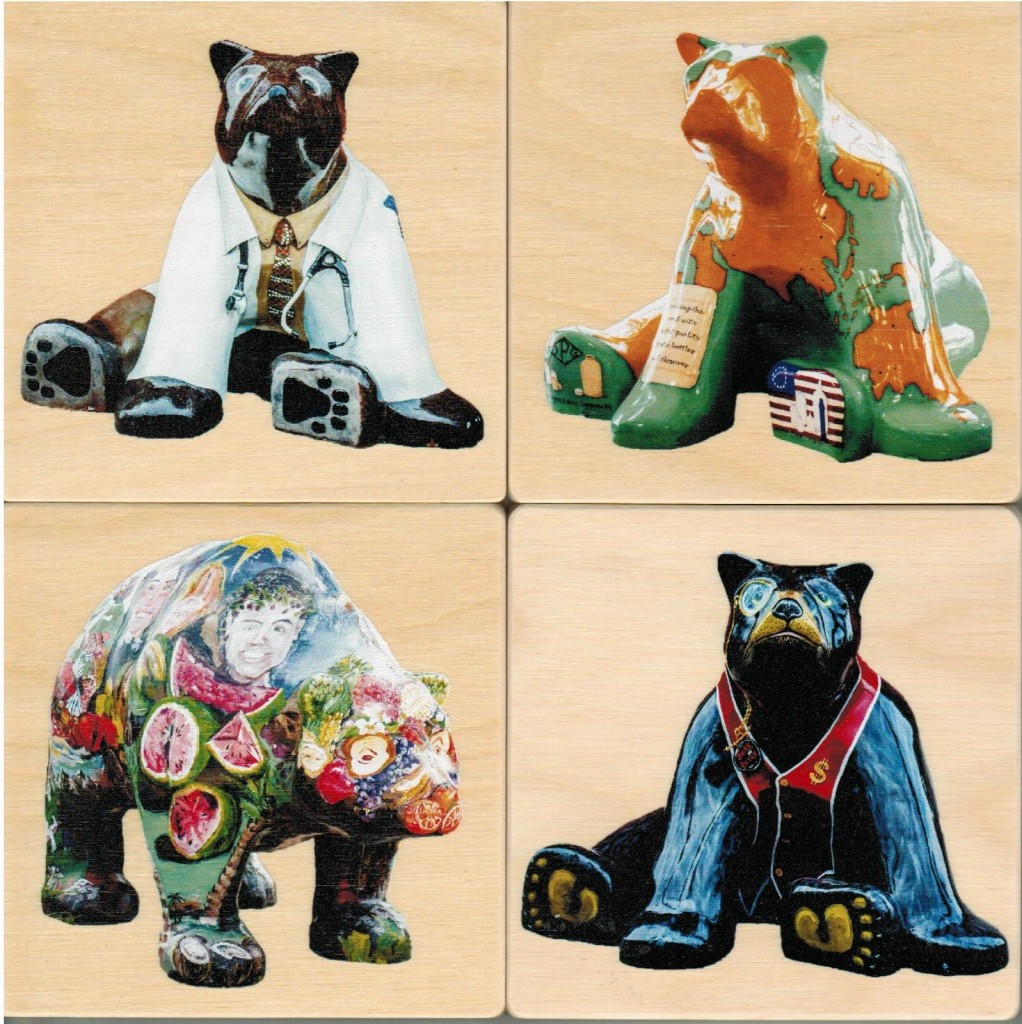 Attention Bear Fever Fans!
Dancing Tree Creations Artisans Gallery and Studio
Announce Arrival of SIXTH Set of Collectable Coasters
A sixth set of Bear Fever coasters featuring 4 different Bear Fever bears is now available at Dancing Tree Creations Artisans Gallery and Studio, 220 South Reading Avenue, Boyertown, PA, and Studio B Fine Art Gallery, 39A East Philadelphia Avenue, Boyertown, PA. Also available are the first five sets of coasters.
Set six features Doc, sponsored by Pottstown Oral and Maxillofacial Surgery Associates and created by Elizabeth Wagner, Boyertown Area School District art teacher and a group of Boyertown Senior High School students; EmBRACEable, sponsored by Leonardo J. Galletto, Orthodontist and painted by artist Christine Burnley; Teddy Bear-secker, sponsored by Drug Plastics and Glass Co., Inc. and decorated by the late Sue Weller; and The Count—the Accountants Shared Bear, sponsored by Reinhart and Company, Larry E. Hoffa and Company, John H. Griesemer, Jr., Denny Urffer of Resnick, Amsterdam and Lesher, Chris and John Schlegel, and Barry L. Weller. Artist Bob McGee designed and painted The Count.
The first set of coasters that were available in November 2015, included Gra-bear, the project's logo bear, designed by Paul Stahl and sponsored and decorated by Jeff Graber of Graber Letterin'; GI Joe, a community-sponsored bear led by BASH student Scarlett Kulp and decorated by Kylene Bertoia-Hart; Box, sponsored by Body Borneman Insurance and fashioned by Doug Davidheiser; and Townie, one of the project's prototype bears, funded by a grant secured by Boyertown Area School District and decorated by BASH students under the direction of Sandy Wood, former long-time art instructor, and art instructor Debra Burkert.
The second set features The Barrister, sponsored by 5 local law offices and decorated by Boyertown Area High School (BASH) art students under the direction of art instructor Thomas Dareneau; Bear-gon, sponsored by Drug Plastics and Glass Co., Inc. and decorated by Gail Fronheiser; Mary Beary, the Distelbear, decorated by Candi Haas-Simmons and sponsored by National Penn Bank; and Spirit, sponsored by a collection of Reading Avenue businesses and decorated by Arline Christ.
The third set featured bears that have been installed at private residences: 3 bears that were sponsored by Jody and Loren Hulber of Macungie. Hul-bear celebrates the couple's 25th wedding anniversary and was painted by Eric Claypoole. Flora became the second bear in the Hulbers' collection and was painted by Joe Hoover. Flora is covered in flower images. Rod, Duh Hot Rod Bear was painted by renowned pinstripe artist Alan AJ Johnson. Loren is a car enthusiast. Chloe is the 4th in the set, sponsored by Diane Reinwalt and painted by Robert L. Williams. Chloe presents the "schoolmarm" of Reinwalt's home that once was a schoolhouse.
The fourth set of bears included Huggy, sponsored by Rose and the late William Gross was created to decrease the stigma associated with acknowledging mental health issues and to encourage folks who are suffering to get the medical help they need. Another bear named Disco is the work of the artists working magic with glass at Taylor Backes Glass Studio. A third CHIP T was sponsored by Harry's Tattoo and the Bear Fever project. CHIP T is an acronym for 'Community Helps in Painting Tattoos.' Erin Wade was the artist of this spectacular bear, originally planned to feature the artwork of the community. Bearra, the fourth bear in this series, was created by Doug Davidheiser who went to extra special lengths for his sponsor, the late Ken Ellis, the man in charge of Bear (baseball) Stadium and the American Legion baseball effort in Boyertown.
The fifth set featured Lincoln Bear, created by artist Daniel Guest and sponsored by Victoria and David Brown, owners of the former Lincoln Elementary School on West Philadelphia Avenue; Bear Odyssey, sponsored by Epps Advertising featuring the unique artwork of Mike Hale. A third bear in the series is Papa Popodickon, sponsored by St. Columbkill's Roman Catholic Church. The artist for Papa Popodickon is fine artist Joe Szimhart. Monty is the fourth bear in series #5, sponsored by Montgomery County Community College and painted by Chris D'Antonio.
The coaster collection, a project initiated by Beth and Lyn Camella-Rich, co-owners of Dancing Tree Creations Artisans Gallery and Studio, began as a fundraising opportunity in support of Studio B Fine Art Gallery. Jill Wentzel, of Jill Elizabeth Photography and Jennifer Hetrick have served as photographers for the coaster project. Tammy Snyder is the project's current photographer.
Bear Fever, Boyertown's beloved public art project, features over 70 life-sized fiberglass bear sculptures decorated by local artists and sponsored by local businesses, individuals, and organizations. The project, begun in 2003, debuted 35 bears at Boyertown High School's annual Arts Expo in May 2005. Since then, the collection has doubled, and residents and visitors to the area continue their love affair with the bear statues.
"I knew folks would like our bears, seeing art on the street, learning more about art and artists, participating in the project, meeting the business people and community members who sponsored the bears; but I had no idea how much they would love the project," noted Jane Stahl, former BASH teacher and co-founder of the project with her husband Paul, marketing consultant and graphic artist.
"Paul figured the community could support the project of 40-60 bears; even he is surprised at how well-received the project has been in the community after all these years," she continued. "There seems to be no cure for Bear Fever." Further information about the project can be found at www.bearfever.org.
Dancing Tree Creations Artisans Gallery and Studio offers hand-crafted art, fine craft and gifts from over 200 local and national artists from throughout North America. This unique retail business, promises to bring one-of-a-kind art to their customers to inspire a creative and artful lifestyle, to promote beautiful hand-crafted works of art by talented North American Artisans, whom the owners have come to know and respect.
The business was opened in October 2010, by artists/co-owners Beth and Lyn Camella-Rich who took early retirement in 2007, leaving their hectic corporate lives in search of a quieter, more sustainable lifestyle. Further expansion of their inventory and reach into neighboring counties created a need for more space. The business moved to its current, enlarged location in 2015 and continues to expand its lines of fine craft.
"We want our customers to know who created the works they purchase and how the items were made," noted Lyn. "We believe this knowledge helps create a connection, a special feeling, every time the piece is viewed, worn, or used."
"It is this unique connection that is lost in today's atmosphere of mass production, a connection that we want to help revive," added Beth.
"To develop cohesiveness and community spirit through participation in this unique artistic project" serves as the mission of Bear Fever. The project was inspired by a desire to celebrate and beautify a beloved hometown and community and bring together many members of the community to have fun and work hard.
Bear Fever has endeavored to promote the arts and artists everywhere, but the project has been especially eager to celebrate those many gifted artists of all ages who live and work in the greater Boyertown community, a very special kind of place.
A distinctive feature of Boyertown's Bear Fever's mission–enlisting the involvement of the community's young people in each aspect of the project—gave them experiences and authentic opportunities to participate in their community; employ their knowledge; and practice communication, art-related, and business skills that they learn in their classrooms. The students developed friendships among all age groups, learned about their community's wealth of resources and the support for them and their education, discovered career paths, and made a remarkable difference in their community.
Studio B celebrates lifelong learning, creativity and personal involvement in the visual and communication arts and seeks to be a dynamic part of Boyertown community, a "go to" destination for learning, fun and friendship. The studio seeks to showcase the work of fine artists in themed exhibits—some juried, some open to all—and welcomes art in diverse media. In addition to art exhibits, workshops, and classes, Studio B also hosts activities and informal gatherings on assorted topics for small groups or meetings, gallery talks, and "Getting to Know You" opportunities.
Visitors are always welcome to view the changing exhibits; take lessons in the visual, literary, and communication arts offered by highly-trained local artists and teachers; and schedule small events or parties in its elegant facility. The studio proudly collaborates with the many unique businesses in the Boyertown community.