December Members and Friends Opening Reception
Friday, December 4th from 3-9pm
Studio B is excited to celebrate its 7th anniversary with an opening of its eighth annual December exhibit entitled "Watch Us Sparkle" on Friday, December 4, 2015, from 3:00 p.m.-9:00 p.m. during Boyertown's 13th annual holiday open house tour. The show continues through January 9, 2016. 
The gallery's artist members and new friends have been invited to feature their best work. Various media, from oil, pencil, and watercolor to clay, glass, and fiber, will be represented. This annual exhibit showcases dozens of local artists and offers an array of styles.
"It is our mission at Studio B to promote the artists," said Studio B director Susan Biebuyck. "This is another opportunity for the many talented people who have graced our walls to exhibit and for us to celebrate their artistic accomplishments."
Featured artist is Linda Elliott whose painting was selected by juror Etta Boettger as "Best in Show" during the studio's December 2014 exhibit. Elliott shares that beginning with her first box of crayons, she was determined to explore and record her view of the world surrounding her.
Reading Eagle Review http://www.readingeagle.com/life/article/art-review-marilyn-fox-exhibit-offers-pleasurable-viewing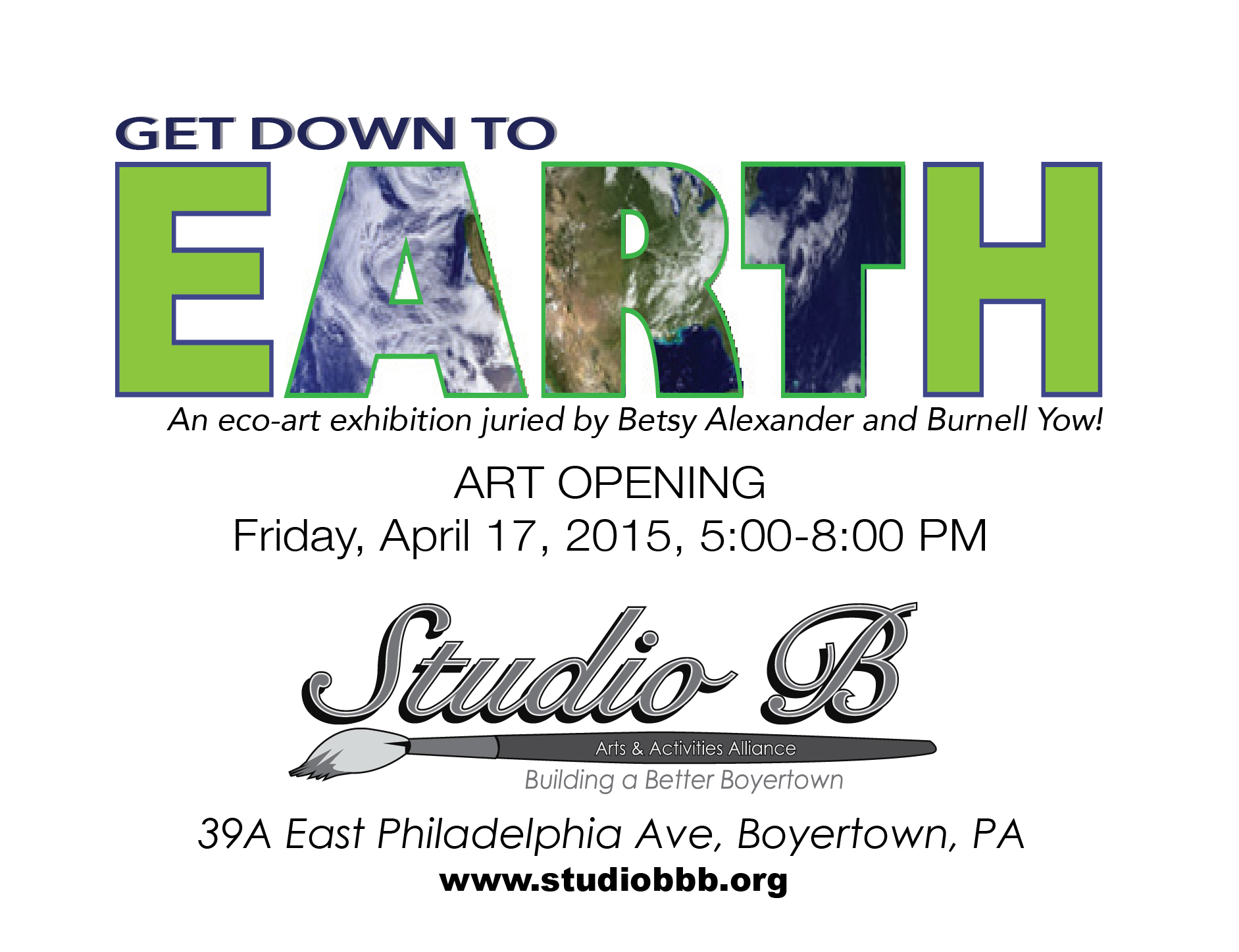 Awards sponsored by Liberty Environmental, Inc. Reading, PA
Exhibition runs through June 20th, 2015
Studio B, 39A East Philadelphia Avenue in Boyertown, PA, is pleased to announce the award winners in its current exhibit entitled "Get Down to eARTh,"the studio's annual exhibit of fine art dedicated to the environment featuring work in all media including painting, drawing, sculpture, video and digital art.
Jurors Betsy Alexander and Burnell Yow!, artists and art collectors who own one of the largest, most eclectic art collections in Philadelphia, chose Bob Hakun's found object sculpture "Futility" as Best in Show.
Second place awards were shared by William Alburger for his repurposed and rescued wood sculpture entitled "Cabinet Tree" and Angela Izzo for her oil painting entitled "Millennial Gardening."
Honorable Mention awards went to Steve Fabian for "Fish Out of Water," Martha Ressler for her fabric collage "Crucified on the Cross of Corporate Greed," Patricia Scialo for her silver gelatin print with encaustic entitled "Botanical Series II," Gail Fronheiser for a mixed water media painting entitled "Plant Maple Trees," and Peter Rampson's fiber sculpture "Folded Tome #33."
Awards for the exhibit were sponsored by Liberty Environmental an environmental consulting and engineering firm headquartered in Reading, PA, which provides environmental services to manufacturers, land developers, private landowners, financial institutions, and government entities. Services include air quality management, site assessment and remediation, natural resources (e.g., wetlands and endangered species identification), water resource management, and sustainability (e.g., greenhouse gas and "carbon footprint" assessments).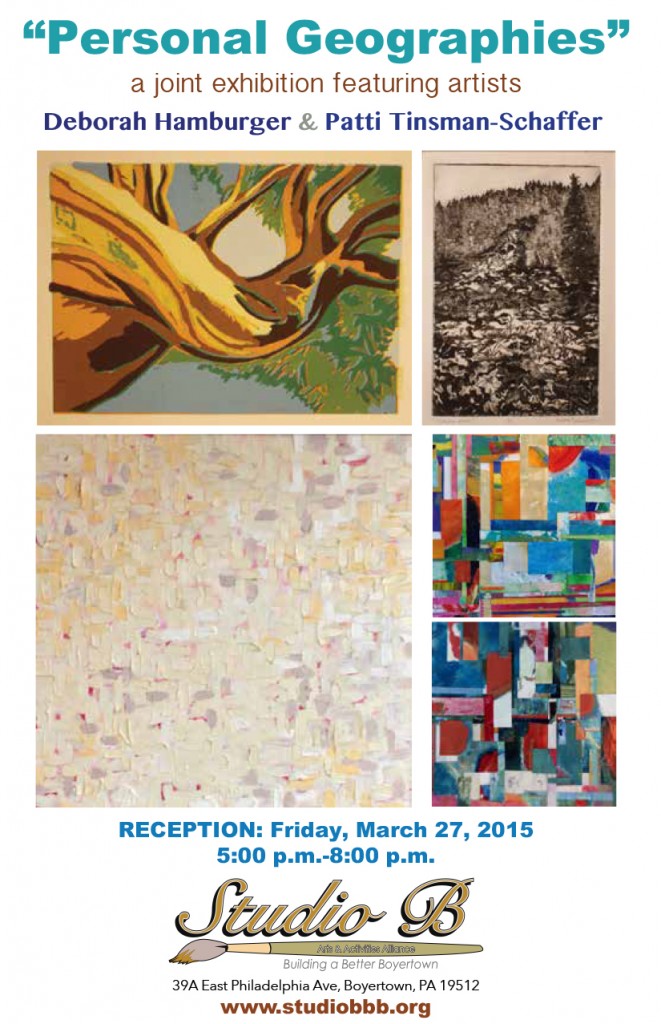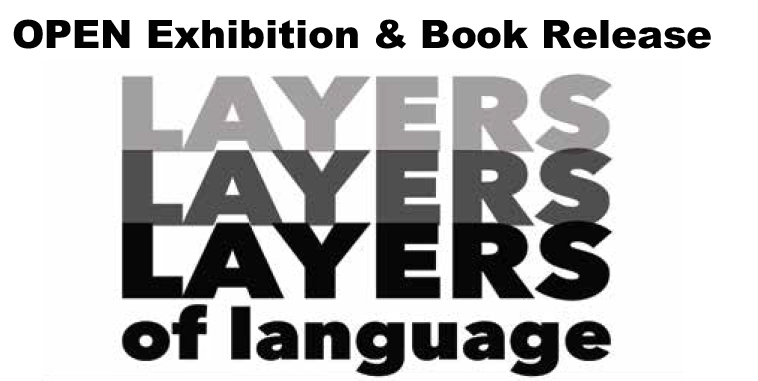 Join Studio B as we present the 2nd Annual exhibition bringing together artists and writers. Opening Reception is Friday, February 20th from 5-8pm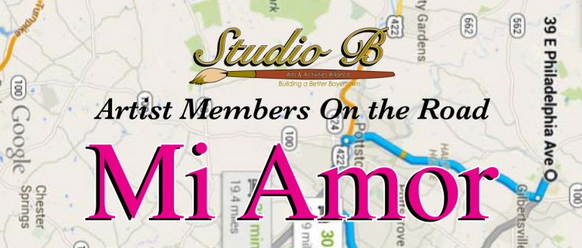 A Studio B Artist Member "On the Road" Exhibition at the Humane Society of Phoenixville! Please join us for their First Friday Gallery Open House on February 6th from 5:30-7:00PM! Sip on wine and enjoy the work of many talented local artists! Opening reception and exhibition located at 12 S Main St, Phoenixville PA 19460 (map/directions)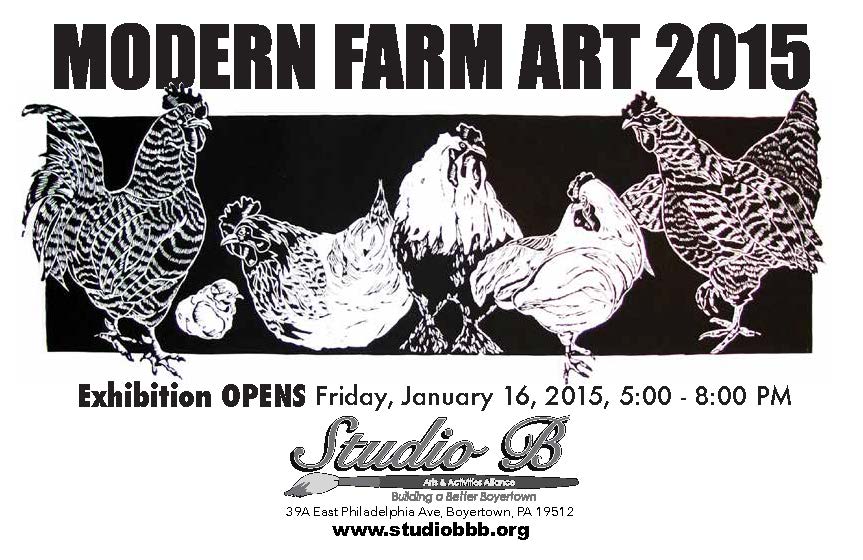 Studio B, 39A East Philadelphia Avenue in Boyertown, PA, is pleased to announce Amanda C. Burdan, Ph.D., Associate Curator for the Brandywine River Museum of Art, as juror for The Modern Farm, the studio's 7thannual show featuring the area's agricultural roots. 




The exhibit opens January 16, 2015, with a reception from 5:00 p.m.-8:00 p.m. Prizes will be awarded on Friday night, including the coveted "Best In Show," which nets the winner a cash prize as well as a featured spot during next year's December Members and Friends exhibit. The show continues through February 14, 2015. The exhibition and opening reception are free and open to the public.