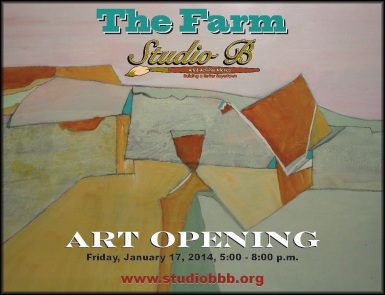 Friday, January 17, 2014, Opening: The Farm. Studio B, 39 E. Philadelphia. Ave. Boyertown, 5:00p.m.-8:00p.m., FREE. Prizes are awarded. "'The Farm' normally packs the house," notes gallery director Susan Biebuyck. "It offers a broad spectrum of fresh takes on the traditional subjects of agriculture and farming while saluting our agricultural roots, paying tribute to our area's natural beauty in creative ways."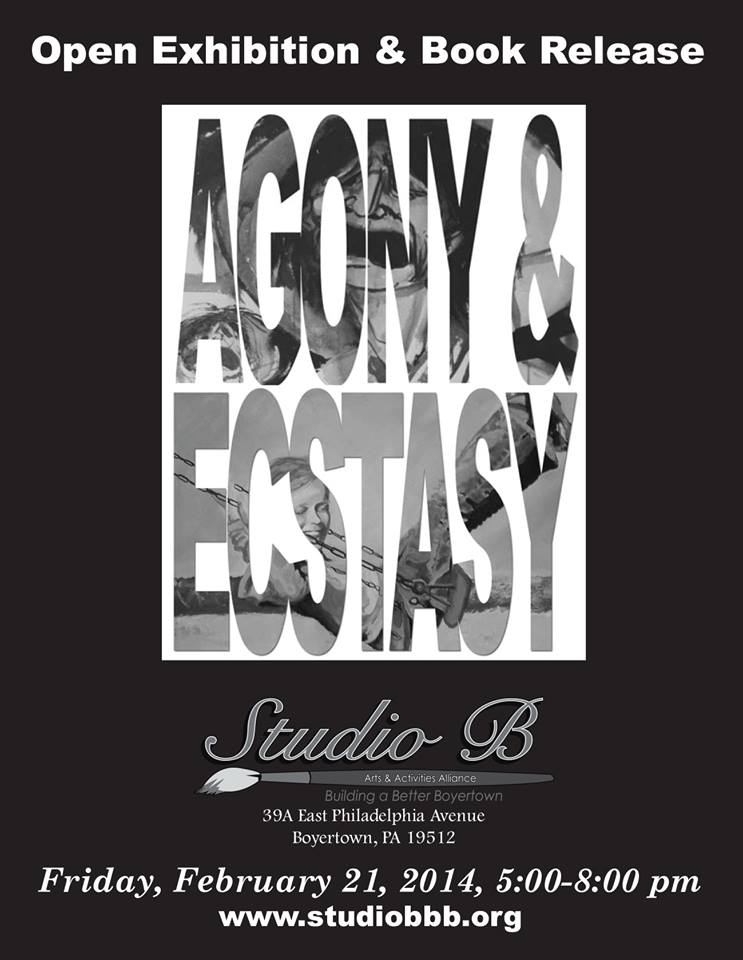 Friday, February 21, 2014 Opening: Agony and Ecstasy: Reflections Inspired by Our Lives. Studio B, 39 E. Philadelphia. Ave. Boyertown, 5:00p.m.-8:00p.m., FREE. This exhibit–featuring both visual and literary art–leaves no doubt: being human guarantees joy and sorrow, fear and anger, surprise and delight. The gallery showcases the wisdom life imparts in its mounting of prose, poetry, and art and in a published booklet.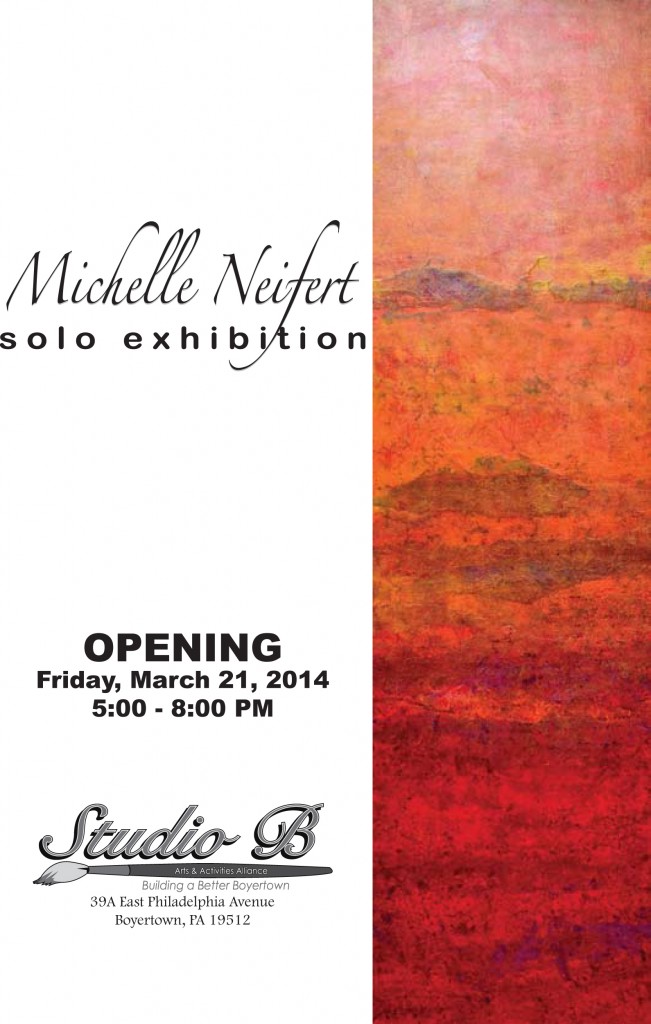 Friday, March 21, 2014 Opening: Michelle Neifert: Reaching Out. Studio B, 39 E. Philadelphia. Ave. Boyertown, 5:00p.m.-8:00p.m., FREE. Michelle's work is an exploration, an inward journey seeking knowledge of our interdependence, our oneness and our connections on a feeling level.  She explains that her work is interactive–an emotional conversation between the viewer and the art's color and form. In her abstract work, the shapes and forms are generally self-created, often resembling landscape or the human form. http://www.zipnstein.com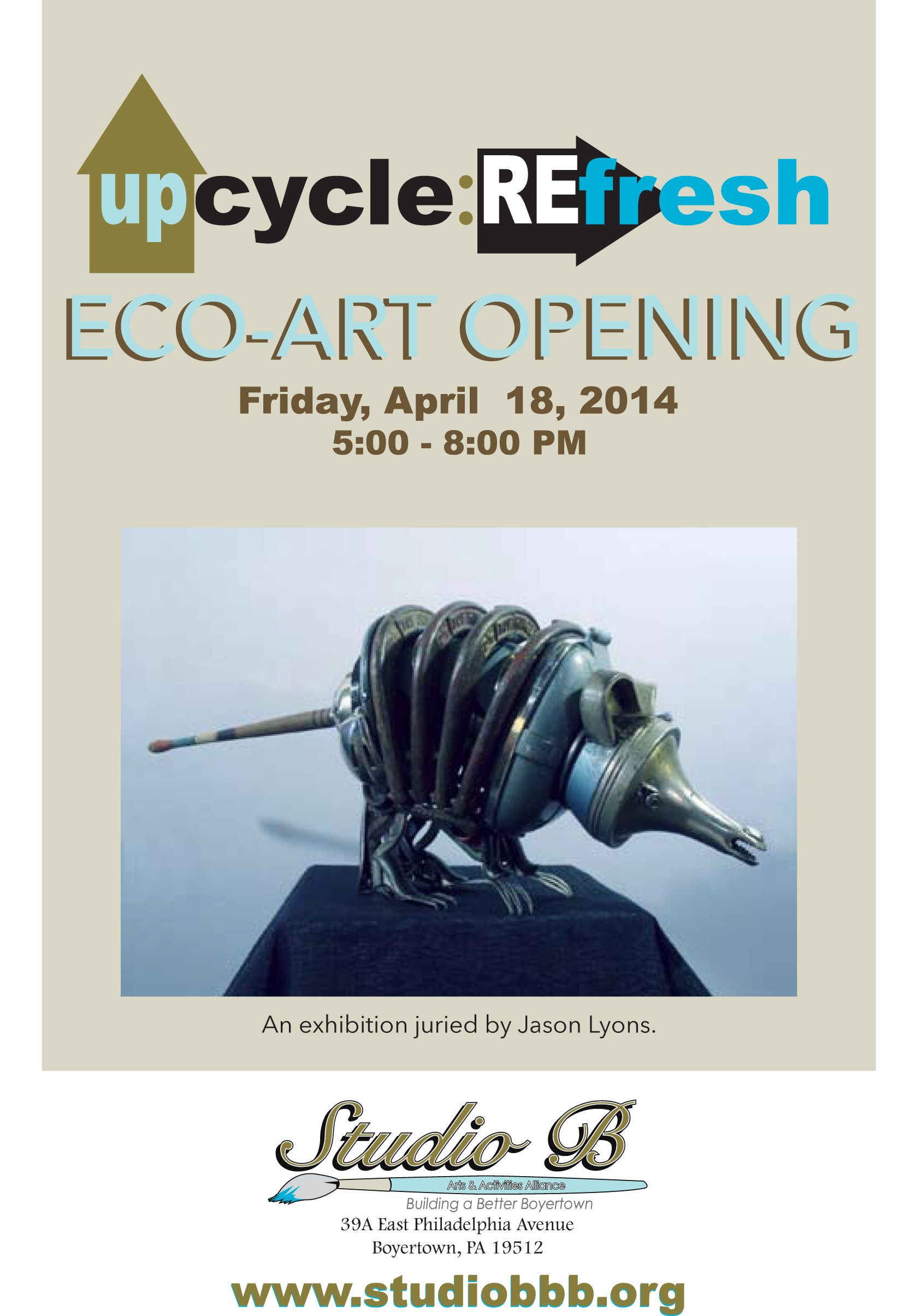 During Studio's B's annual effort to celebrate the environment and Earth Day, the gallery will present an exposition entitled UPCYCLE:REFRESH. With awards' sponsorship from Liberty Environmental, Inc., the gallery will host its sixth eco-art Opening and Awards Ceremony on Friday, April 18, 2014, 5:00 – 8:00 PM.
Artists are inherently creative at figuring out ways to give beauty, value and life to an otherwise blank canvas. "Upcycling," a popular and contemporary word for re-use, proudly showcases this idea in fine art.
The show runs through May 10, 2014; the gallery's normal hours are Thursday, Friday, and Saturday from 11:00 a.m.-3:00 p.m.; Friday evenings for third Friday openings 5:00 p.m.-8:00 p.m.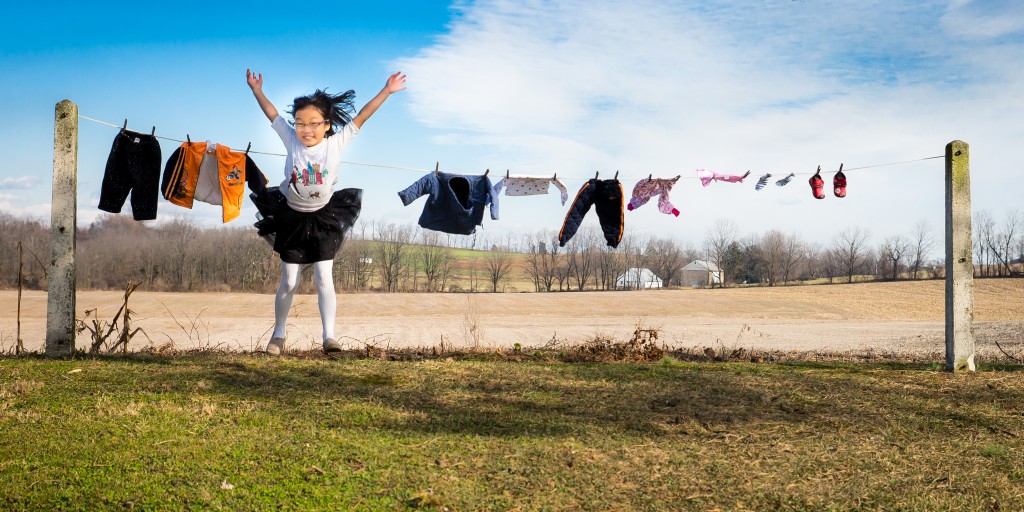 Studio B Hosts Dual Exhibits, Jane Ammon's Photographs: "The Clothes They Came to Us In" and KenCrest's ArtWorks!: Art by Artists with Intellectual and Developmental  Disabilities
An important aspect of Studio B's mission includes providing opportunities to enhance lifelong learning, creativity, and health and wellness through the arts while serving as a dynamic "go to" destination for fun and friendship. This aspect will be realized fully in two very special exhibits which will open at Studio B on May 16, 2014, from 5:00-8:00 p.m. The exhibit runs through June 12, 2014.
In the main gallery the photography of Jane Ammon will feature compelling photographs of 30 internationally-adopted children.
In the studio's classroom gallery, the exhibit will feature ArtWorks!–artwork by 25-30 artists with intellectual and developmental disabilities–who attend the KenCrest EmployNet program. All the art on exhibit will be for sale and 100% of the purchase price is returned to the artist.
Thanks to exhibition sponsor Zerns Farmers Market!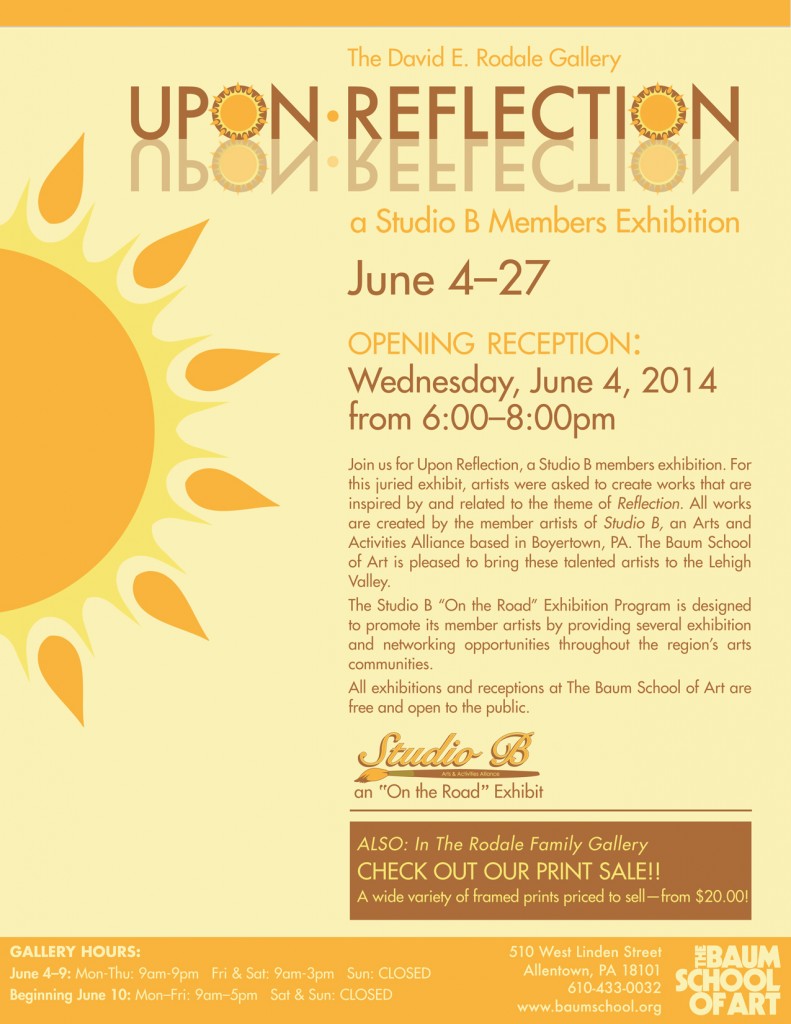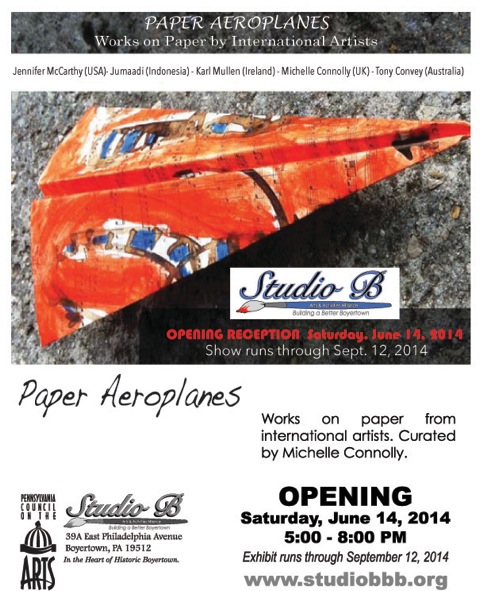 Studio B presents "Paper Aeroplanes: An International Show of Works on Paper from Artists and Friends" June 14th- September 12th, 2014 Artists: Jennifer C. McCarthy (Santa Fe),  Jumaadi (Indonesia/Australia), Karl Mullen (Ireland/USA), Michelle Connolly (UK/Australia/USA) and Tony Convey(Australia).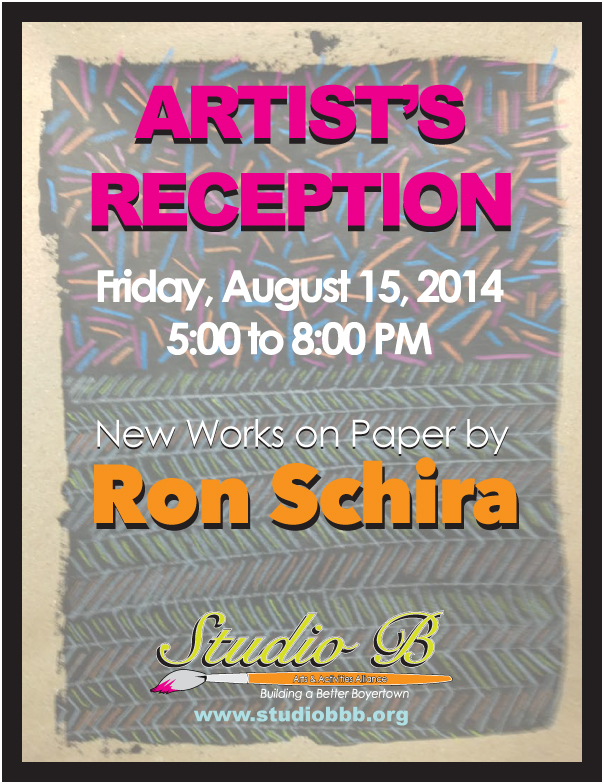 Through September 13, 2014, Gallery B at the B features the recent work of Ron Schira, the Reading Eagle's prolific art critic. Schira's exhibit, "Untitled Abstractions: Gouache and Colored Pencils on Paper", offers an investigation into abstract art using modest materials with an economy of means. The abstractions combine two methods, one of painting and the other of drawing on paint. The paper is recycled cardboard with bits of plant fiber for the smaller pieces and a thicker variety of newsprint for the drawn works.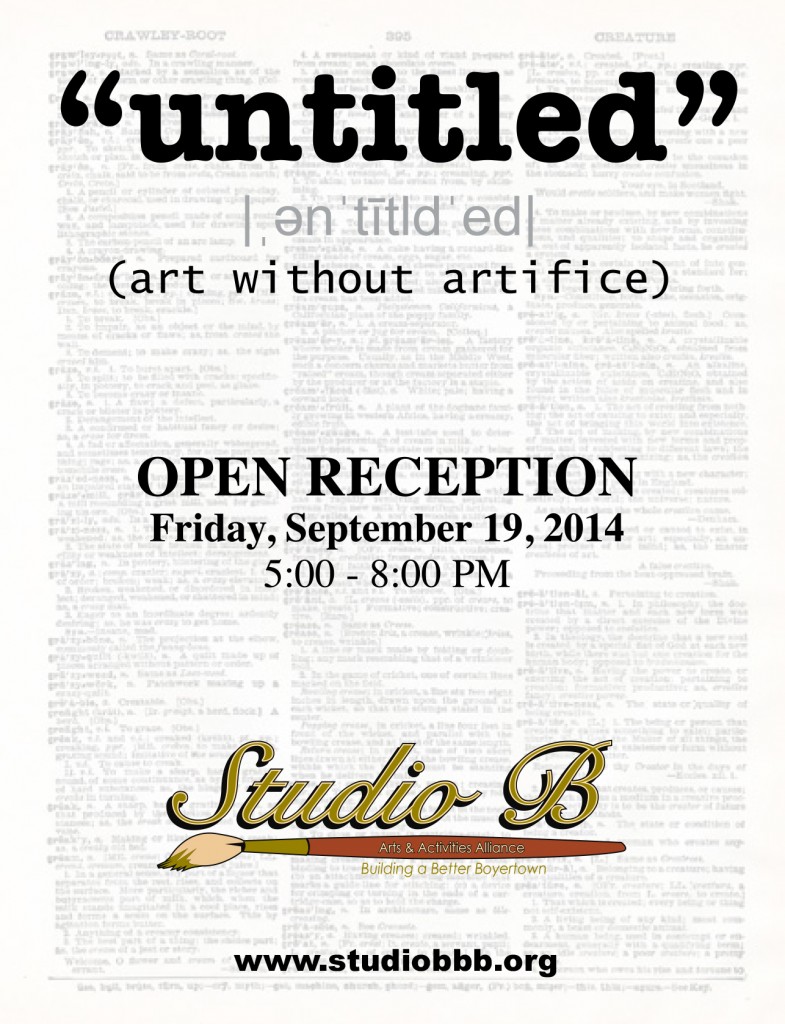 The invitational exhibit "Untitled: Art without Artifice" opened Friday, September 19, 2014. The exhibit honors the freedom inherent in the creative process and is funded by an anonymous donor who invited artists whose work does not fit a particular theme or idea, but who stretch boundaries in their work "because they can."
The artwork of Kutztown University senior and Studio B intern Benjamin Hoffman will also occupy Studio B's classroom gallery. The reception is free and open to the public. The exhibit continues until October 11, 2014.
"NEW STUFF" in Paint and Clay opens October 17, 2014, 5:00 p.m.-8:00 p.m., self-taught artist Bob Wood goes in new directions with his bold, colorful work. Sandy Wood  joins him with drawings and works on paper. Show runs until November 29, 2014. The reception is free and open to the public.
Take a Painting
Throughout November 2014, the studio offers "Take a Painting," an exhibit developed by Erika Stearly as her thesis exhibition project toward a Master of Fine Arts through the Indiana University of Pennsylvania.  The project is funded by the Black Rock Arts Foundation (BRAF) with the intent of bringing this art project to new communities.
December Members and Friends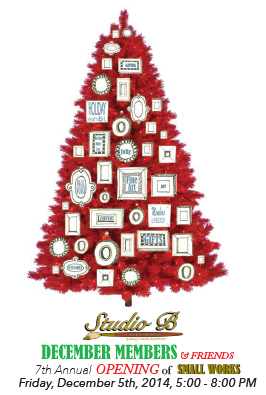 Opening Friday, December 5, 2014, (5:00 p.m.-8:00 p.m.) through January 10, 2015, Studio B's 7th annual December Members and Friends exhibit offers art work priced perfectly for holiday gifting from dozens of area artists showcasing a wide variety of style and media. The opening of this exhibit coordinates with Boyertown's annual Holiday Open House Tour in which typically over 700 people visit the homes and businesses open for the evening.